While choosing from a variety of courses offered by Russian schools one may be confused. It's not always clear which course will be appropriate within certain circumstances. This article will help you with your dilemmas.
Standard Group Course of Russian
If you decided to study Russian in Saint Petersburg, you probably want to meet new people. If so, this type of course will be perfect for you. The students in your group are people with the same interests as yours, so it will be easy to communicate.
What is also important, the lessons are usually in the morning, so you will have enough time to go sightseeing. The cost of studying in Russia in a group with 20 lessons a week is the lowest, so it is good for those who want to learn Russian in Russia cheap.
Intensive Group Course of Russian
Intensive Russian language course is usually chosen by those who want to learn as much as it is possible within a restricted period. There are 30 lessons per week, so there will be less time to rest or explore the city. It's reasonable to note that our Russian language school is located in the city center, so students still can get to most tourist attractions easily.
This course is the most effective for short-term studies. However, if you are brave and confident enough to study hard during the long period, it is also possible to have a long-term Intensive Russian language course.
Individual Russian Course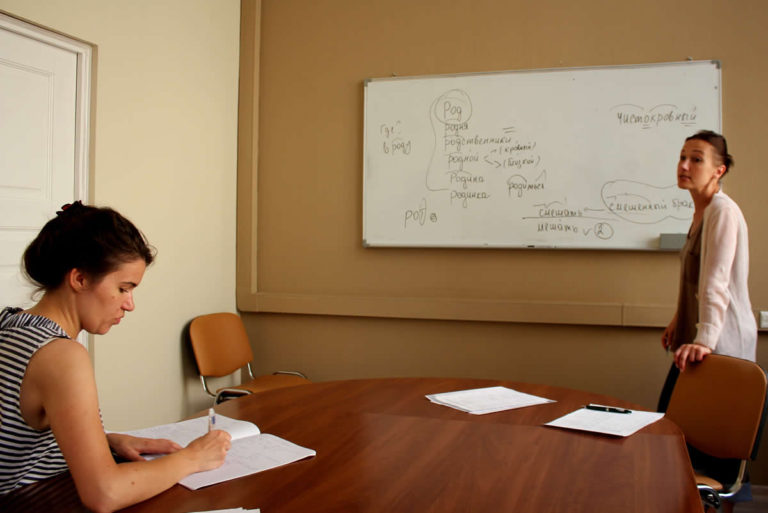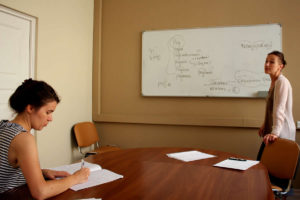 Learning Russian Language requires being focused during the whole tuition process. It is not easy for some people to concentrate and follow other students in the group. There are individual Russian classes in this case. One more important thing is having a specific purpose to study Russian language. For example, it can be exam preparation or studying Russian for business. Group Russian courses in Russia will not be that useful here as only general vocabulary can be learned there. General Russian is also important to learn, but for some people it's not enough.  Many students decide to go for a group course and add 2-4 individual lessons per week. In this case they not only get proper basic Russian language, but also study Russian language for their specific purpose and work on their weak points.
Full Immersion Russian Language Course
This course of Russian in St Petersburg varies from school to school. EDUCA Russian Language School provides this course fully individually. The program allows to study the language at school and outside of it. During indoor lessons students study Russian grammar and vocabulary. The outdoor lessons are lessons in the real Russian language environment where students can practice Russian in Russia together with the teachers. The lessons can be anywhere according to the interests of the student: museums, theatres, restaurants or just in the park. It is a good opportunity for those who want to have an extraordinary experience of learning Russian.
Online Russian Courses
Nowadays, it is quite common to be busy and unable to spend even a week in Russia. Online Russian lessons are the perfect solution in this case. There is no sense in explaining the profits of online tuition. It might be more convenient for some students.  If you already visited Russia for Russian courses and you want to continue with your studies, you can also consider taking up Russian language lessons online. The teachers of EDUCA will stay with you even after you leave Saint Petersburg! Lessons can be once or twice a week depending on your needs. You will not forget what you have learned in Russia by learning Russian online.
Now how know more about language courses in Russia. It means that you are one step closer to your fluency in Russian. Choose a course according to your needs and come to Saint Petersburg or study online.